NEMO BAIT & FISHERIES
INFORMATION ABOUT OUR PRODUCTS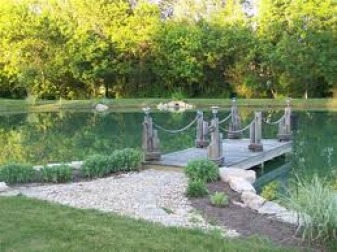 WHEN STOCKING YOUR LAKE MANY FACTORS CAN MAKE OR BREAK YOUR POND. SOME COMBINATIONS OF FISH WORK AND OTHERS DO NOT. IF YOU'RE UNSURE OF WHAT FISH TO STOCK, FEEL FREE TO
CALL US
ANYTIME AND WE WILL HELP SET UP YOUR IDEAL POND OR LAKE TO SUITE YOUR WANTS AND NEEDS.
WATER CLARITY, VEGETATION, COVER AND DEPTH ALL FACTOR INTO YOUR POND STOCKING. THE MORE CLEAR YOUR WATER, THE LESS REPRODUCTION YOU WILL GET DUE TO PREDATOR FISH BEING ABLE TO SEE FURTHER IN YOUR POND. VEGETATION IS VERY IMPORTANT TO YOUR POND, ALSO 10-20 PERCENT VEGETATION IS IDEAL. GIVING PREY FISH A PLACE TO HIDE AND MULTIPLY, BUT NOT SO MUCH THAT FISHING IS A HASSLE. ALTHOUGH SHALLOW PONDS PRODUCE GREAT FISH, DEEPER PONDS GIVE MORE TEMPERATURES AND OXYGEN LEVELS, GIVING FISH SEVERAL DIFFERENT TYPES OF ENVIRONMENTS TO SUITE THEIR DESIRE.
PREDATOR FISH INCLUDE LARGE MOUTH BASS, HYBRID BLUEGILL, BLACK CRAPPIE AND CHANNEL CATFISH.
PREY FISH INCLUDE FATHEAD MINNOWS, GOLDEN SHINERS, BLUEGILL AND REDEAR SUNFISH.
A TYPICAL GROWING SEASON FOR OUR AREA IS APRIL TO OCTOBER
FATHEAD MINNOWS SHOULD ALWAYS BE STOCKED ONE GROWING SEASON BEFORE PREDATOR FISH ARE STOCKED.
WHEN STOCKING LARGE MOUTH BASS, REGULAR BLUEGILL SHOULD BE STOCKED A GROWING SEASON BEFORE.
THE ADDITIONAL STOCKING OF GOLDEN SHINERS HELPS TURN YOUR BASS INTO TROPHIES.
BLUEGILL, HYBRID BLUEGILL, REDEAR SUNFISH AND CRAPPIE ARE ALL TYPES OF SUNFISH. STOCKING MORE THAN 800 SUNFISH PER ACRE IS NOT RECOMMENDED.
CRAPPIE SHOULD NOT BE STOCKED IN MUDDY OR MURKY COLORED PONDS OR PONDS THAT ARE NOT STOCKED OR GOING TO BE STOCKED WITH LARGE MOUTH BASS.
---
SPECIES
CHANNEL CATFISH
CHANNEL CATFISH (ICTALURUS PUNCTATUS) ARE A FAST GROWING GAME FISH THAT DO WELL IN THE SMALLEST PONDS TO HUGE LAKES. CHANNEL CATFISH ARE EASY TO CATCH IN MOST CONDITIONS, PUT UP A GREAT FIGHT AND ARE SPLENDID TO EAT, MAKING CHANNEL CATFISH ONE OF THE MOST POPULAR FISH IN THE WORLD OF STOCKING.
CHANNEL CATFISH ARE OMNIVORES, MEANING THEY EAT BOTH PLANT AND ANIMAL MATERIAL. DIET RANGING FROM TINY ALGAE AND INSECTS WHEN YOUNG, TO LARGE FISH AT MATURITY. HOWEVER CHANNEL CATFISH DO NOT PLAY A LARGE ROLL IN THE BALANCE OF A POND. FOR THE MOST PART, CHANNEL CATFISH WILL EAT THE FISH FOOD THAT IS FED TO THEM AND THE WEAKER OR WOUNDED FISH IN YOUR POND. COMMERCIAL FISH FOOD IS THE MOST SIGNIFICANT WAY TO PUT WEIGHT ON YOUR FISH. STUDIES SHOW THAT ONE TO TWO POUNDS OF FISH FOOD IN AN IDEAL ENVIRONMENT WILL CREATE ONE POUND OF FLESH. WHEN FEEDING YOUR FISH, THROW SOME FOOD OUT FIVE TO SEVEN DAYS AFTER STOCKING (TO GIVE YOUR FISH TIME TO SETTLE DOWN AND ADAPT TO THEIR NEW HOME) IF THEY EAT IT ALL IN LESS THAN FIFTEEN MINUTES FEED THEM MORE THE NEXT TIME. IF IT TAKES YOUR FISH LONGER THAN FIFTEEN MINUTES CUT THE FEED BACK. CATFISH FEED BEST IN HIGHER TEMPERATURES OF WATER, FEEDING BELOW A TEMPERATURE OF 65 IS NOT RECOMMENDED.
CONTRARY TO WHAT MOST PEOPLE BELIEVE CHANNEL CATFISH OFTEN DO NOT REPRODUCE IN YOUR POND OR LAKE. IN THE RARE OCCURRENCE THAT THEY DO, MOST GENERALLY THE OTHER FISH IN YOUR POND EAT THEM UP BEFORE THEY ARE EVER BIG ENOUGH FOR YOU TO SEE THEM. CATFISH SHOULD BE STOCKED AT A RATE OF 100-500 FISH PER SURFACE ACRE OF WATER, DEPENDING ON HOW OFTEN YOU ARE GOING TO FEED THEM. WE SELL THREE SIZES OF CHANNEL CATFISH. 4-6'', 6-8'' AND 8-10''. OUR CHANNEL CATFISH ARE RAISED IN PONDS (NOT CAGES) AND FED PREMIUM FISH FOOD TWICE DAILY THROUGH THE GROWING SEASON.


---
ALBINO CATFISH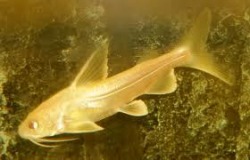 THE ALBINO CHANNEL CATFISH (ICTALURUS PUNCTATUS) OTHER THAN HAVING A WHITE OR PINK LOOKING SKIN IS THE SAME EXACT FISH AS THE CHANNEL CATFISH. GROWING, FEEDING AND STOCKING IS THE SAME AS THE CHANNEL CATFISH. WE SELL 4-6'' ALBINO CHANNEL CATFISH REGULARLY, OTHER SIZES MAY BE AVAILABLE UPON REQUEST.
---
HYBRID BLUEGILL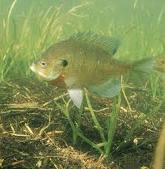 HYBRID BLUEGILL (SOMETIMES REFEREED TO AS HYBRID SUNFISH) ARE NOT A TRUE SPECIES OF FISH. THEY ARE IN FACT A CROSS OF TWO OTHER FISH WITHIN THE SAME SUB SPECIES. WHEN YOU TAKE A MALE BLUEGILL(SHOWN BELOW) AND A FEMALE GREEN SUNFISH BREED THEM YOU GET A HYBRID BLUEGILL.
HYBRID BLUEGILL HAVE HUGE ADVANTAGES AND A FEW DRAW BACKS IN YOUR POND. HYBRID BLUEGILL HAVE THE LENGTH AND HEIGHT OF A REGULAR BLUEGILL, AND THE WIDTH AND LARGER MOUTH OF THE GREEN SUNFISH. HYBRID BLUEGILL ARE FAR MORE AGGRESSIVE MAKING THEM EASIER CATCH. THEY FEED VERY WELL ON A COMMERCIAL FISH FOOD DIET GIVING THEM A HUGE GROWING ADVANTAGE OVER THE REGULAR BLUEGILL. WHEN FED A COMMERCIAL DIET, HYBRIDS GROW UP TO 16'' LONG AND WEIGH UP TO 3 POUNDS. ALTHOUGH SOME SAY HYBRIDS ARE STERILE,THEY ARE NOT. 90 PERCENT OF HYBRID BLUEGILL ARE MALE. MAKING THE LIKELY HOOD OF REPRODUCTION ALMOST ZERO. SO WHAT YOU PUT IN YOUR POND IS WHAT YOU HAVE, DON'T COUNT ON ANY REPRODUCTION OF YOUR FISH.
HYBRID BLUEGILL AS MENTIONED EARLIER ARE VERY AGGRESSIVE AND HAVE A REALLY LARGE MOUTH FOR A FISH THIS SIZE. WE RECOMMEND THE STOCKING OF FATHEAD MINNOWS WHEN STOCKING HYBRID BLUEGILL. STOCKING VARIES WIDELY ON HYBRID BLUEGILL, 200 ON THE LOW SIDE PER SURFACE ACRE OF WATER. UP TO 500 PER SURFACE ACRE ON THE HIGH SIDE. BUT REMEMBER 800 PAN FISH PER ACRE IS THE MOST YOU SHOULD EVER STOCK. WE GENERALLY SELL 2-4'' HYBRID BLUEGILL, THIS SIZE IS LARGE ENOUGH TO MAKE IT IN A MATURE POND AND STILL SMALL ENOUGH TO BE AFFORDABLE TO THE CONSUMER. LARGER SIZES ARE SOMETIMES AVAILABLE UPON REQUEST.
---
BLUEGILL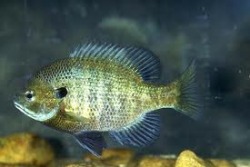 BLUEGILL(LEPOMIS MACIOCHIRUS) ARE A GAME/FORAGE FISH ESSENTIAL TO MOST PONDS. BLUEGILL CAN REACH A SIZE OF 1 POUND AND 14" LONG, ALTHOUGH THEY AVERAGE 1/4 TO 1/2 POUND AND 7" TO 9'' LONG. BLUEGILL PROVIDE FOOD FOR OTHER FISH LIKE LARGEMOUTH BASS AND THE OCCASIONAL MATURE CHANNEL CATFISH, AS WELL AS A GAME FISH THAT IS FUN TO CATCH AND GREAT TO EAT. BLUEGILL FEED ON TINY ALGAE LIKE PLANKTON, INSECTS AND SMALL FISH SUCH AS FATHEAD MINNOWS. SOME WILL EAT COMMERCIAL FISH FOOD, BUT DUE TO THEIR SMALL MOUTH, FISH FOOD IS NOT A NORMAL DIET FOR THEM.
BLUEGILL ARE A NEAR ESSENTIAL ELEMENT FOR THE GROWTH OF TROPHY BASS. BLUEGILL WHEN STOCKED ARE USUALLY TWO YEARS OLD. MOST BLUEGILL ARE SEXUALLY MATURE AT THAT AGE SO REPRODUCTION IS ALMOST INSTANT. BLUEGILL WILL BUILD NESTS ON ALMOST EVERY TYPE OF POND, BANK OR BOTTOM, ALTHOUGH SAND OR GRAVEL IS PREFERRED. THE NEST'S ARE USUALLY ONE TO THREE FEET UNDER THE WATERS SURFACE WHEN THE WATER HITS 70 TO 75 DEGREES. THEY LAY BETWEEN 2,000 AND 70,000 EGGS IN EACH SPAWN ALTHOUGH THE AVERAGE IS 15,000. ALMOST EVERY FISH IN YOUR POND WILL PREY ON THEIR OFF SPRING, IT'S KIND OF NATURES WAY OF KEEPING THEM AROUND.
WE SELL 2-4'' BLUEGILL, AND RECOMMEND STOCKING 500 PER ACRE DEPENDING ON WHAT YOU ARE LOOKING FOR YOUR POND TO REAR. IF YOU ARE LOOKING FOR A POND TO PRIMARILY BASS FISH OUT OF, BUMP IT UP SOME. IF YOU DO NOT WANT ANY BASS IN YOUR POND STOCK LESS.



---
BLACK CRAPPIE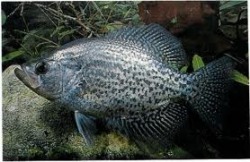 BLACK CRAPPIE(POMOXIS NIGROMACULATUS) ARE A SPORT FISH WITH MOST ANGLERS SAY THE BEST TASTING FISH IN THE WATERS. CRAPPIE CAN GROW UP TO FIVE POUNDS AND 18" LONG. AVERAGING 12"AND 3/4 OF A POUND. BLACK CRAPPIE SPAWN IN THE EARLY SPRING VERY CLOSE TO THE SURFACE OF THE WATER AND RIGHT ON THE BANK MAKING THEM AN EASY CATCH DURING APRIL AND MAY.
BLACK CRAPPIE ARE A LOVED FISH IN THE WORLD OF FISHING BUT CAN POSE PROBLEMS IN SMALL PONDS. ONE TO TWO THINGS USUALLY OCCUR. YOU MAY STOCK CRAPPIE IN YOUR POND AND THEY WILL LIVE TO MATURITY WITH VERY LITTLE REPRODUCTION OR REPRODUCE WELL AND SURVIVE IN GREAT NUMBERS WITH VERY LITTLE GROWTH.
BLACK CRAPPIE GENERALLY REPRODUCE EARLIER IN THE SEASON THAN BLUEGILL AND BASS. GIVING THEM A HUGE JUMP IN THE FOOD CHAIN. THEY REPRODUCE SO MANY AT A TIME AND IN COOLER WATERS(FISH ARE FAR LESS ACTIVE IN COOLER WATER THAN IN WARMER WATER) THAT THE OTHER PREDATOR FISH DO NOT GET ENOUGH EATEN UP BEFORE THE CRAPPIE FRI EAT UP MOST OF THE PLAKTON IN THE WATER. THIS AFFECTS THE GROWTH OF OTHER FISH IN YOUR POND.
WE DO NOT RECOMMEND THE STOCKING OF CRAPPIE IN SMALL PONDS UNLESS THE PROPER CONDITIOINS ARE MET.
*CLEAR WATER. THE CLEARER THE WATER THE FUTHER YOUR FISH CAN SEE MAKING IT EASY FOR PREDATOR FISH TO SEE AND EAT THE OFFSPRING OF YOUR CRAPPIE.
*ROOTED VEGETATION. ROOTED VEGETATION AROUND YOUR SHORE LINE GIVE EXCELLENT HIDING SPOTS FOR SMALL FATHEAD MINNOWS. GIVING THE MINNOWS A PLACE TO HIDE AND SPAWN LEAVING MORE FOOD FOR YOU ADOLESCENT BASS. ALSO ADDING OXYGEN(FISH ARE WAY MORE AGGRESIVE IN HIGHLY OXYGENATED WATERS).
*FATHEAD MINNOWS. THE STOCKING OF FATHEAD MINNOWS IS ESSENTIAL FOR ALMOST EVERY POND. MINNOWS REPRODUCE QUICKLY AND SOMETIMES THREE TO FOUR TIMES A YEAR. GIVING THE OTHER PREDATOR FISH PLENTY TO EAT ON WHEN PLANKTON LEVELS ARE LOW.
*LARGE MOUTH BASS. WITHOUT LARGE MOUTH BASS IN YOUR POND CRAPPIE ARE PRETTY MUCH THE KING OF THE WATER. WITH LITTLE TO NO CANNIBALISM AMONG CRAPPIE. WITH NO FISH TO KEEP THE CRAPPIE COUNT AT BAY, THEY HAVE A TENDENCY TO RUN WILD AND REPRODUCE UNTIL THE FOOD SOURCE IS GONE GIVING YOU A POND OF SMALL UNACCEPTABLE CRAPPIE.
WE SELL 2-3'' BLACK CRAPPIE AND RECOMMEND STOCKING 100 PER SURFACE ACRE OF WATER. LARGER SIZES AVAILABLE SOMETIMES UPON REQUEST.

---
REDEAR SUNFISH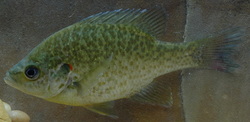 REDEAR SUNFISH(LEPOMIS MICROLOPHUS) ALSO KNOWN AS THE SHELL CRACKER. REDEAR HELP CONTROL WORMS IN PONDS. ANYONE WHO FISHES PONDS VERY MUCH IN THE HEAT OF THE SUMMER HAS SEEN A WORM OR TWO IN THE MEAT FINS OR SKIN OF A FISH. THESE WORMS ARE TAPEWORMS, YELLOW GRUBS, WHITE GRUBS OR BLACK GRUBS. REDEAR ARE NOT BIG COMPETITORS OF OTHER FISH USUALLY EATING A DIET OF AQUATIC ANIMAL LIFE THAT OTHER FISH USUALLY DO NOT PREY ON. ALSO THE CONSUMPTION OF SNAILS IS THE MAIN REASON THEY GET GRUBS.
REDEAR SUNFISH, DESPITE THEIR FEEDING HABITS STILL GROW TO GREAT SIZES. WITH THE RECORD BEING 5 POUNDS BUT AVERAGING 1 POUND AND 12-14'' LONG. THEY HAVE VERY WHITE AND TASTY MEAT AND WHEN CAUGHT ARE VERY FUN TO CATCH.
REDEAR ARE BOTTOM FEEDERS AND ARE KIND OF HARD TO CATCH, VERY RARELY EVER FEEDING AT THE TOP OF THE WATER. THEY DO NOT EAT COMMERCIAL FISH FOOD MAKING THEM KIND OF A NIGHTMARE FOR THE FISH FARMER. WHEN RELYING SOLELY ON NATURE FOR YOUR FISH TO GROW IN NUMBERS LIKE YOU NEED TO MAKE A LIVING, GETTING THESE FISH TO SIZE IS SOMETIMES VERY HARD. SIZE AND AVAILABILITY ARE VERY LIMITED ON THESE FISH. WE TRY TO HAVE 1.5''-3'' REDEAR.
---
LARGE MOUTH BASS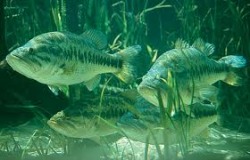 LARGE MOUTH BASS(MICROPTERUS SALMOIDES) ARE KNOWN TO MOST AS THE HIGHEST OF HIGHEST TROPHIES IN THE FISHING INDUSTRY IN THE UNTIED STATES. HOSTING TOURNAMENTS IN EVERY STATE IN THE UNION. BASS ARE GROWN TO NEAR RECORD SIZE IN THE SMALLEST OF PONDS TO THE BIGGEST OF LAKES.
BASS GROW VERY RAPIDLY WHEN FOOD IS PLENTIFUL. A 3-4'' BASS CAN REACH SIZES OF 8-10'' IN ONE GROWING SEASON AND UP TO 16'' IN THREE. WHEN A BASS IS IN ITS SECOND YEAR IT USUALLY BECOMES SEXUALLY MATURE. SPAWNING USUALLY BEGINS IN LATE MAY TO MID JUNE. EGGS TAKE LONGER TO HATCH THAN OTHER FISH AND THEIR OFFSPRING ARE WEAK IN EARLY WEEKS, A TEN DEGREES DROP IN WATER TEMPERATURE CAN KILL OFF LARGE NUMBERS OF YOUR BASS FRY.
BASS ARE VERY STRONG PREDATORS AND EAT LOTS OF FOOD TO MAINTAIN HEALTH. IT TAKES 6-8 POUNDS OF FOOD FOR A BASS TO GAIN ONE. WHEN STOCKING BASS YOU SHOULD FIRST STOCK FATHEAD MINNOWS AND REGULAR BLUEGILL ONE FULL GROWING SEASON(APRIL TO SEPTEMBER) BEFORE STOCKING BASS. THIS GIVES THE BLUEGILL A TIME TO REPRODUCE FROM 100'S TO 1000'S AND THE MINNOWS FROM 1000'S TO TENS OF 1000'S. MAKING YOUR POND A SMORGASBORD OF TASTY HIGH PROTEIN FOOD.
WE SELL 3-4'' LARGEMOUTH BASS.

---
FATHEAD MINNOWS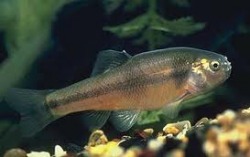 FATHEAD MINNOWS(PIMEPHALES PROMELAS) ALSO KNOWN AS CHUBS, BLACK HEADS, FLATHEAD MINNOWS AND TUFFIES ARE A VERY FAST REPRODUCING NON GAME FISH ESSENTIAL FOR ALL PONDS OR LAKES. THESE FISH PROVIDE FOOD FOR ALMOST EVERYTHING IN YOUR POND. FATHEADS REPRODUCE OFTEN, EACH PAIR LAYING 200-500 EGGS. FATHEADS RARELY EXCEED 3'' IN LENGTH AND THEY ARE USUALLY 250 FISH IN ONE POUND. FATHEADS SHOULD BE STOCKED BEFORE THE STOCKING OF BASS AND CONTINUED AS OFTEN AS POSSIBLE FOR YEARS TO COME. WE SELL FATHEAD MINNOWS BY THE POUND AND RECOMMEND 5-10 POUNDS PER SURFACE ACRE OF WATER.
---
GOLDEN SHINERS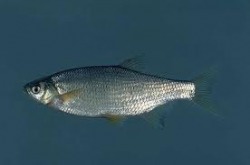 GOLDEN SHINER(NOTEMIGOUS CRYOLEUCAS) ARE ANOTHER GREAT ADDITION TO YOUR POND FOR GROWING TROPHY BASS. YOU MAY HAVE HEARD ABOUT SHINERS SEEING THEY ARE MOST COMMONLY USED FOR FISHING. GOLDEN SHINERS GROW UP TO AN AMAZING 10'' LONG ALTHOUGH THE AVERAGE IS 6-7''. WHEN STOCKED IN THE SPRING, SHINERS GROW TO LENGTHS THAT BY FALL, FINGERLING BASS CANNOT YET EAT GIVING THEM AMPLE TIME TO REPRODUCE. BY THE FOLLOWING YEAR YOUR SHINERS WILL BE 4-6'' LONG AND YOUR BASS 8-10'' LONG, THUS GIVING THE BASS MORE BANG FOR HIS BUCK. WHEN A BASS EATS IT CHASES ITS FOOD, SOMETIMES FOR A RATHER LONG PERIOD OF TIME. SO AFTER THE BASS HAS EXPELLED SO MUCH ENERGY IT NEEDS TO CATCH SOMETHING THAT MAKES IT WORTH HIS WILD TO GROW. THERE ARE APPROXIMATELY 100 2-4'' SHINERS IN A POUND.
---
GRASS CARP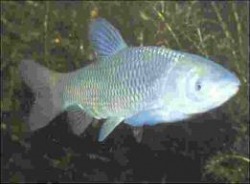 GRASS CARP(CTENOPHARYNOGDON IDELLA) ALSO KNOW AS THE WHIT AMUR. GRASS CARP ARE NATIVE TO EASTERN ASIA, THEY WERE BROUGHT TO THE UNITED STATES IN THE 1960'S. GRASS CARP FEED PRIMARILY ON VEGETATION THAT GROWS IN YOUR POND AND VERY SELDOM EVER GOES AFTER OTHER FISH. GRASS CARP PREFER ROOTED VEGETATION NEAR THE BANK BUT WILL IN FACT EAT ANYTHING GREEN THAT IS IN YOUR POND. ALTHOUGH WE ARE AWARE THAT IT IS POSSIBLE FOR GRASS CARP TO REPRODUCE NATURALLY IN YOUR POND, AFTER 25 YEARS IN THE FISH BUSINESS WE HAVE NEVER ONCE SEEN IT HAPPEN. NOR HAVE WE HAD ANY REAL CONFIRMED CASE OF IT. SOME PEOPLE ASK, WELL THEN HOW DO YOU SELL FISH THAT DO NOT REPRODUCE? WELL YOU MUST UNDERSTAND THAT THE WATERS THEY WERE TAKEN FROM MANY YEARS AGO WAS WARM WATER RIVERS OF EASTERN ASIA. THEIR EGGS REQUIRE DAYS OF WARM CONSTANT RUNNING WATER TO HATCH. PLUS THE FEMALES WILL NOT LAY THERE EGGS IN NON MOVING WATER. COMMERCIALLY HERE IN MISSOURI THE FEMALES EGGS ARE COLLECTED AND THEN MIXED WITH MALES MILT. PUT INTO RACEWAYS WITH WARM MOVING WATER. THEN PUT INTO ALGAE FILLED PONDS RAISED TO SIZE AND SEINED. WE SELL 7-11'' GRASS CARP OTHER SIZES SOMETIMES AVAILABLE UPON REQUEST.
---
KOI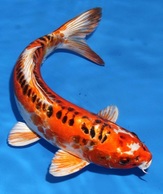 KOI (CYPRINUS CARPINO) ARE A FISH NATIVE TO JAPAN. THEY ARE COVINATED, THERE A WAY OF LIFE. MUCH LIKE CATS AND DOGS HERE IN AMERICA. HOWEVER THERE IS ONE BIG DIFFERENCE. OFTEN KOI OUTLIVE THERE OWNERS, AND ARE PASSED DOWN FROM GENERATION TO GENERATION. RECENTLY A JAPANESE FAMILY WAS INTERVIEWED ABOUT THERE KOI AND THEY HAD BEEN PASSED DOWN SO MANY TIMES THAT THE NEW OWNERS DID NOT EVEN KNOW THE ORIGINAL OWNERS NAMES. AND IT WAS THERE GREAT GREAT GRANDPARENTS. SCIENTIST DID A STUDY ON SOME OF THE FISH'S SCALES AND FOUND THAT ONE OF THE FISH IN THERE WAS 226 YEARS OLD.
KOI EAT NEARLY ANYTHING IN A POND BUT COMMERCIAL FOOD MADE FOR KOI IS IDEAL. KOI CAN GO DAYS OR WEEKS WITH NO FOOD AT ALL WITH NO HARM. FEEDING ON A REGULAR BASIS, FOOD DESIGNED FOR THEM HELPS KEEP THERE COLOR AND WEIGHT AT IDEAL SIZE.
KOI WILL REPRODUCE IN A VARIETY OF PONDS BUT EVERYTHING FROM INSECTS TO THERE OWN PARENTS WILL PREY ON THEM. GETTING VERY MANY IN RETURN IS HIGHLY UNLIKELY. KOI CAN BE STOCKED IN AQUARIUMS TO LARGE LAKES AND DO QUITE WELL IN ALL. KOI COME IN A VARIETY OF COLORS WITH 1000'S OF PATTERNS NO TWO KOI ARE ALIKE.
WE RAISE AND SELL KOI MANY OF WHICH ARE BUTTERFLY KOI WITH MANY COLORS. PRICES, SIZES AND COLORS VARY DRASTICALLY. CALL FOR PRICES AND COLORS, PICTURES CAN BE EMAILED TO YOU. WE CAN MAIL KOI DIRECTLY TO YOU ANYWARE IN THE UNITED STATES VIA US POST OFFICE AIRBAGGED IN A COOLER. OUR PRICES ON KOI ARE EXCELLENT SEEING MOST PLACES THAT RAISE KOI ARE RAISE NOTHING BUT KOI, MAKING IT NEARLY IMPOSSIBLE TO MAKE A LIVING WITHOUT CHARGING AN
---
GOLDFISH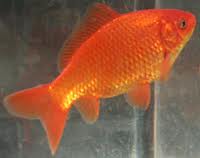 GOLDFISH (Carassius auratus auratus) DIFFER ONLY IN COLOR FROM THE PURSIAN CARP AND ARE THE MOST COMMON AQUARIUM FISH IN THE WORLD. GOLDFISH ARE MOST COMMONLY A SMALL THREE TO EIGHT INCH FISH USED MAINLY FOR BAIT AND AQUARIUMS. WE DO NOT RECOMMEND STOCKING GOLDFISH IN LAKES VERY OFTEN ALTHOUGH SOMETIMES IT CAN BENEFIT YOUR PONDS BALANCE. SOMETIMES PROVIDING EXTRA FORAGE FOR BASS AND CHANNEL CATFISH. GOLDFISH CAN POSE A RISK OF OVER POPULATING BECAUSE THEY ARE A WELL REPRODUCING CARP AND REPRODUCE IN VAST NUMBERS. GOLDFISH ARE HERBACEOUS ONLY EATING PLANT LIFE AND FISH FOOD. WE SELL SEVERAL SIZES OF GOLDFISH BY THE POUND COLORS RANGING DRASTICALLY.


---
COMMON CARP
COMMON CARP (Cyprinus carpio) VERY FAST REPRODUCING PREY FISH THAT GETS TO SIZES OF 40 POUNDS PLUS. CARP ARE NOT USUALLY RECOMMENDED FOR STOCKING IN PONDS. WE SELL SEVERAL SIZES OF COMMON CARP BY THE POUND FOR BAIT.
---
CRAYFISH
CRAYFISH (Orconectes virilis) ALSO KNOWN AS CRAWFISH, CRAWDAD AND CRAB. CRAYFISH ARE AMPHIBIOUS MEANING THEY CAN LIVE ON LAND OR IN THE WATER. EATING EVERYTHING FROM PLANT LIFE TO SMALL FISH. CRAYFISH ARE A GREAT FOOD SOURCE FOR PONDS. CRAYFISH REPRODUCE WELL IN MOST PONDS. THEY ARE NOT RECOMMEND TO STOCK WITH REDEAR SUNFISH. CRAYFISH TEND TO MUDDY WATER FORM THE CONSTANTLY WALKING AROUND ON THE BOTTOM OF THE POND STIRRING THE WATER. WHICH CAN CAUSE PROBLEMS DUE TO LACK OF SUNLIGHT AND INTERRUPTING PHOTOSYNTHESIS AND SLOWING PLANT GROWTH ALONG THE WATERS EDGE. THE MISSOURI DEPT. OF CONSERVATION IS TRYING TO PUT A TOTAL BAN ON THE RAISING,SELLING AND TRANSPORTING OF LIVE CRAYFISH IN MISSOURI. PLEASE CALL WRIGHT OR E-MAIL YOUR LOCAL STATE REP. OR ANYONE ELSE YOU KNOW THAT MAY MAKE A DIFFERENCE IN THIS.


---


POND 1 (BASS POND)

FIRST STOCKING (SPRING)

10 POUNDS FATHEAD MINNOWS

5 POUNDS GOLDEN SHINERS

500 REGULAR BLUEGILL

100 REDEAR SUNFISH

2ND STOCKING (FALL)

100 LARGEMOUTH BASS

100 HYBRID BLUEGILL (OPTIONAL)

100 CHANNEL CATFISH (OPTIONAL)

POND 2 (CATFISH POND)

SPRING OR FALL

10 POUNDS FATHEAD MINNOWS

5 POUNDS GOLDEN SHINERS

300-1000 CHANNEL CATFISH

100 REDEAR SUNFISH

100 REGULAR BLUEGILL

100-500 HYBRID BLUEGILL (OPTIONAL)

POND 3 (CRAPPIE POND)

1ST STOCKING (SPRING)

15 POUNDS FATHEAD MINNOWS

100 REDEAR

100 REGULAR BLUEGILL

2ND STOCKING (FALL)

100 CRAPPIE

100-500 HYBRID BLUEGILL

5 POUNDS GOLDEN SHINERS

POND 4 (WALLEYE POND)

1ST STOCKING (SPRING)

20 POUNDS FATHEAD MINNOWS

10 POUNDS GOLDEN SHINERS

250 YELLOW PERCH

100 REDEAR

100 REGULAR BLUEGILL

2ND STOCKING (FALL)

100 WALLEYE

10 POUNDS MINNOWS



PLEASE GIVE US A CALL, WE WOULD LOVE TO GIVE YOU A BID ON STOCKING YOUR LAKE. WE WILL ALMOST ALWAYS HAVE A BETTER PRICE ON THE SAME SIZE FISH AS ANYONE.

NOT ALL FISH SIZES ARE CREATED EQUAL

2 INCH HYBRID BLUEGILL---5 POUNDS PER 1000
3 INCH HYBRID BLUEGILL---17.2 POUNDS PER 1000
4 INCH HYBRID BLUEGILL---​41.4 POUNDS PER 1000
5 INCH HYBRID BLUEGILL---82.4 POUNDS PER 1000
A 3 INCH FISH IS OVER 3 TIMES AS BIG AS A 2 INCH FISH


REMEMBER SIZE MATTERS, PRETTY MUCH ALL FISH FARMS GRADE THEIR FISH AND SET THEIR PRICING BY WEIGHT. MEANING WHEN WE SEINE FISH AND BRING THEM UP TO OUR HOLDING TANKS. WE HAVE GRADERS (FLOATING BOXES THAT HAVE BARS SPACED OUT EVENLY) THAT WE PLACE THE FISH IN. TO SORT THE SIZES THEN WE COUNT 1000 OF EACH SIZE. THAT GIVES US OUR WEIGHT COUNT. DEPENDING ON THE WEIGHT COUNT OF THE FISH WE SET OUR PRICE. THE FOLKS AT THE UNIVERSITY HAVE DEVELOPED A CHART TO SIZE FISH BASED ON AVERAGE WEIGHT.

FOR EXAMPLE
IF WE SEINE TWO YEAR OLD HYBRID BLUEGILL. THERE WILL BE FISH FROM 2 INCHES UP TO 6 INCHES IN THE POND. ALL THESE FISH ARE THE SAME AGE BUT FOR WHATEVER THE REASON THEY DO NOT GROW AT THE SAME RATE. WE WILL GRADE THESE FISH 3 TIMES.

WE PLACE THE FISH INTO THE GRADER BOX FOR A FEW MINUTES AND THE SMALLEST SWIM OUT. GIVING US FISH THAT WEIGH BETWEEN ROUGHLY 20 POUNDS PER 1000. SOMETIMES MORE SOMETIMES LESS OUR HANDY LITTLE CHART TELLS US THAT A 2 INCH HYBRID BLUEGILL WEIGHS 5.0 POUNDS PER 1000 AND A 3 INCH HYBRID BLUEGILL WEIGHS 17.2 POUNDS PER 1000. WE MARKET THESE FISH AS 2-3 INCH. WE SELL THIS SIZE OF FISH FOR 50 CENTS. IF YOU CALL AND GET A BID FOR SAY 500 HYBRID BLUEGILL 2-3 INCH FROM ME. I WILL BID THEM AT 250 DOLLARS. BUT IF THESE FISH WERE A LITTLE SMALLER SAY 13 POUNDS PER 1000 THE PRICE GOES DOWN DRASTICALLY. TO THE TUNE OF HALF. 125.00.

SO IF YOU WERE TO CALL ANOTHER FISH FARM AND ASK FOR A BID FOR 500 2-3 INCH HYBRID BLUEGILL THEY MIGHT QUOTE YOU LESS MONEY. BUT KEEP IN MIND THEY MAY NOT BE THE SAME SIZE FISH. EVEN IF THEY SAY 2-3 INCHES.

ASK ANY FISH FARM YOU BUY YOUR FISH FROM HOW MUCH THEY WEIGH PER 1000. I HAVE BID ON FISH IN THE PAST AND NOT WON THE BID AND WONDERED HOW IN THE WORLD SOMEONE CAN RAISE FISH CHEAPER THAN US. THIS IS THE WAY. I STRESS THIS TO PEOPLE ON THE PHONE EVERYDAY. THE 2-3 OR 4-6 INCH THING WE ALL SAY IS JUST TO GIVE YOU AN IDEA OF WHAT YOU WILL BE GETTING. THATS NOT HOW WE PRICE OUR FISH. ITS BY WEIGHT.