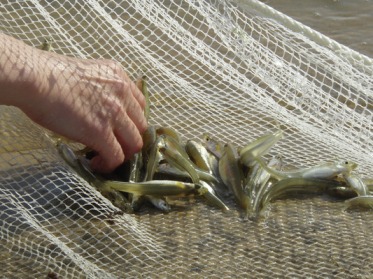 THE HOBBIE HUT L.L.C
OPENED ITS DOORS UNDER THE OWNERSHIP OF DON AND VINCE SMITH IN THE SPRING OF 1984, JUST A FEW SHORT MONTHS AFTER THE OPENING OF T
HE MARK TWAIN LAKE
AND CLARENCE CANNON DAM.
THE HOBBIE HUT
OPENED SELLING MISCELLANEOUS CRAFTS AND SOUVENIRS TO THE HOPEFUL TOURIST HERE TO VISIT THE NEW LAKE. AFTER JUST A FEW SHORT MONTHS OF EVERY OTHER PERSON WALKING IN THE DOOR ASKING, YOU GUYS SELL "MINNOWS?" WE EXPANDED INTO THE FISHING INDUSTRY.
ADDING ONE 135 GALLON CONCRETE FISH VAT AND A VERY LIMITED SELECTION OF HOOKS, SINKERS AND JIG HEADS. CONSTANT DELIVERIES OF NEW MINNOWS LED TO MORE FISH VATS AND MORE AND MORE PRODUCTS. BY THE SPRING OF 1988 BUSINESS WAS BOOMING AND GETTING THE FISH COULD SOMETIMES BE A PROBLEM, SEEING HOW THE COMPANY THAT WAS HAULING THE FISH WAS BASED OUT OF ARKANSAS.
DURING THESE FOUR SHORT YEARS, SEVERAL OTHER NEW BUSINESS' OPENED AROUND
MARK TWAIN LAKE
, NEW
GAS STATIONS
,
CAMPGROUNDS
,
HOTELS
,
RESTUARANTS
AND
MARINAS
WERE ALL OPEN AND ALL SELLING FISHING BAIT.
THAT SEASON, AFTER FOUR YEARS OF A NEARLY CONSTANT SHORTAGE OF FISH,
THE HOBBIE HUT
EXPANDED BY THE PURCHASE OF ONE USED TRUCK AND TRAILER AND THREE HOMEMADE PLYWOOD TANKS, AND SET SAIL ON A JOURNEY SOUTH TO FIND THE SOURCE OF THE MINNOWS THAT THEY HAD BEEN PURCHASING ALREADY FOR FOUR YEARS. AFTER SOME BARGAINING AND ATTEMPTS AT SEVERAL DIFFERENT FISH FARMS, NEW MINNOWS WERE HAULED HOME.
UPON RETURN, PENCILS WERE SHARPENED AND THEY CAME TO A QUICK REALIZATION THAT THERE WAS NO WAY ONE BAIT SHOP COULD MAKE SUCH A COSTLY 18 HOUR TRIP AND STILL MAKE A PROFIT. THIS LED TO THE CREATION OF
NEMO BAIT CO
.
KNOWING THAT ALL BAIT SHOPS HAD TO BE HAVING THE SAME TROUBLE THAT WE WERE, WE DECIDED TO EXPAND AND START HAULING THE FISH WEEKLY TO THE LAKE AND DELIVERING THEM AS NEEDED TO EVERY BAIT SHOP AROUND. ONE TRUCK AND A 30 MILE ROUTE AROUND
MARK TWAIN LAKE
BECAME TWO TRUCKS, TWO TRUCKS BECAME THREE AND A 150 MILE RADIUS. DELIVERING EVERYTHING FROM SHINERS, GOLDFISH, RODS, REELS AND POND DELIVERIES OF GAME FISH. MORE VATS WERE BUILT, PONDS WERE DUG AND MORE TRUCKS WERE BOUGHT. HAVING OUR OWN BAIT AND TACKLE SHOP AND SEVERAL GOVERNMENT CONTRACTS WITH THE US ARMY CORPS OF ENGINEERS MADE US AWARE OF WHAT WAS NEEDED TO MAKE
NEMO BAIT CO
. WHAT IT IS TODAY.
BY 2006 BOTH BUSINESSES WERE DOING WELL.
THE HOBBIE HUT L.L.C
AND
NEMO BAIT CO
. HAD SEVERAL FULL AND PART TIME EMPLOYEES. DURING THE SUMMER OF 2006, WAYNE LUCKE OF LUCKY LAKES FISH FARM, ASKED US TO TAKE OVER HIS BUSINESS, DUE TO RETIERMENT. SKEPTICALLY KNOWING THAT THIS WOULD REQUIRE MORE TRUCKS, VATS AND MAN POWER, WE DECIDED TO GIVE IT A TRY.
NEMO BAIT CO
. EXPANDED TO
NEMO BAIT AND FISHERIES
, GETTING NEW CONTRACTS WITH ORSCHELN FARM AND HOME, FARM KING SUPPLY, QUINCY FARM AND HOME STORE AND
FISH DAYS
, MOVING
NEMO BAIT AND FISHERIES
TO THE LARGEST CUSTOMER BASED FISH SUPPLIER IN THE MIDWEST.
NOW WITH EIGHT TRUCKS, A FIVE STATE SERVICE AREA AND 22 FULL AND PART TIME EMPLOYEES
NEMO BAIT AND FISHERIES
OFFERS SOME OF THE BEST BAIT, TACKLE AND POND STOCKING FISH. SELLING OVER 20 DIFFRENT
SPECIES OF FISH
, WORMS, CRICKETS AND EVERYTHING IN BETWEEN,
NEMO BAIT AND FISHERIES
HAS GROWN TO BE A LEADER IN THE FISHING INDUSTRY.
---